Downsizing Reduces Loan Size While Company Survives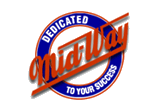 Mid-Way Supply
Zion, Illinois
Challenge
Distributor of HVAC equipment. Revenues $30 million, down from $47 million. $6 million debt. Owner leveraged company to buy out family members at height of market. Vendor representing 70% of the business also a secured lender in the inventory.
---
Effort to maintain revenues resulted in increased credit risk, slow pay and many customers eventually going out of business.
Inventory held at historically high levels even in face of revenue declines.
Buyout of family members allowed sales and marketing functions to languish.
Bank's $10 million note was deemed to be at significant risk.
Solution
Owner removed from day-to-day decision making and MorrisAnderson installed as CRO to help management.
Forbearance agreement with Senior Lender.
Aggressive, market-oriented inventory management system put in place.
Implemented professional sales and marketing program.
Installed professional collections procedures and policies.
Results
Senior Lender and key vendors supported turnaround process.
Inventory rationalization reduced inventory by 35% in four months at no margin loss.
Professional marketing and sale performance grew the customer base in a direction of more professional, faster growing customers.
Lender paid down $7.4 million versus initial recovery estimate of $4.5 million.
30M
Annual Sales
6M
in Debt